Teen musicians are showing just how quickly youth can be served
by Austin Siegemund-Broka
http://www.dailybreeze.com/ci_18339746?IADID=Search-www.dailybreeze.com-www.dailybreeze.com
      Emma and Isaac Simons-Araya have played a show at L.A.'s Grammy Museum as the night's closing act. They've played in bars, at music festivals, at the famed Los Angeles underground rock club The Smell.
And they're all of 15 and 13 years old, respectively .
The brother and sister are the Potential Lunatics, a Long Beach-based punk duo they formed almost three years ago.
They've played shows throughout Long Beach, Los Angeles and Orange County since then. And on Wednesday, they'll hold an all-ages record-release party for their first full-length album, "Well Trained Youngsters," at the Expo Building in Long Beach.
Emma and Isaac come from a musical family. Their father is a professional guitarist and 
sound technician, and their uncle, Tom Araya, plays bass for the metal band Slayer.     
Emma says she remembers music always playing at home, from folk and world music to punk and grunge.
"A lot of the stuff we listened to when we were really young inspired us," she said. "I used to want to be like that - it kind of stuck in my brain. I started playing bass when I was 8 because I knew I wanted to start a band."
She had started writing songs very young, she says, before she had a band to play them. But she eventually persuaded Isaac to learn drums ("I was forced to for two months, and then I got better and it got more fun," he said), and in September 2008, the siblings formed the Potential Lunatics.
They play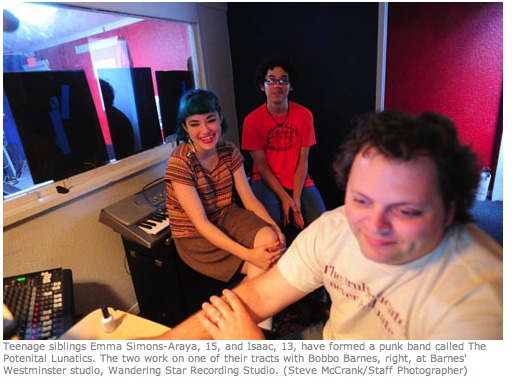 energetic, bratty grunge and punk. Emma, the band's songwriter, says she drew inspiration from the melodic hard rock of Nirvana and Foo Fighters, her favorite bands. She and Isaac also say the speed and intensity of punk make it fun to play.
Emma's lyrics mostly make feminist statements and societal critiques - as she joked, "predictable punk band things." But some also touch on ideas of love, home and growing older.
"I have to get really frustrated and think that I'm never going to be able to write again before I can write a good song," Emma said.
The band first took the stage a month after they formed, and the siblings soon started taking gigs at venues such at the Blue Cafe and Aquarium of the Pacific in Long Beach, and Downey's Anarchy Library.
After almost a year of playing shows and working with the Orange County chapter of the worldwide songwriters organization Just Plain Folks, the band became intent on recording an album.
They had produced a four-track EP in a friend's garage several months after they formed the band, and Emma says they wanted to get back to a studio.
Bobbo Byrnes, an independent music producer they met through a show, offered to record a single after hearing Emma play it at a Just Plain Folks meeting.
The band was so happy with the song that in December 2009 they asked Byrnes to produce a whole album.
"They had such a clear vision of what they wanted everything to do," Byrnes said. "They're more professional than most people I work with."
In long days at Byrnes' house and at Secret Ninja Studios in Westminster, Emma and Isaac recorded every track between trips to Taco Bell and Cold Stone Creamery.
The mixing took about another six months - partly because, Emma says, she had a certain sound in mind and was a perfectionist about achieving it.
"When we were recording the EP, we had a little more raw of a sound. On the record, it's not as raw-sounding," she said. "I think we took it a little more seriously. This was the first record, and we wanted to make it right."
The album's 12 songs span the Potential Lunatics' three-year life, including the first song Emma ever wrote for the band and a cover of alternative rock forefathers Big Star.
Emma says the recording process gave her and Isaac a better idea of the creative opportunities of a studio.
"We've been writing things that are bigger-sounding. It's definitely sounding more full," she said. "We're getting a clearer image of what we want to be in the future."
The record-release party will have a 1950s theme, with Dick and Jane-style attire encouraged, because Emma and Isaac are fans of the era's clothing and popular culture.
It will be open to all ages - and actually welcomes kids with party games such as musical chairs, as well as a performance from the band.
Emma and Isaac say their music reaches kids as well as adults, but that the two audiences sometimes connect with the songs in different ways.
Kids dance and throw themselves into the music more, Emma says, recalling a birthday party they played recently at Long Beach's Los Cerritos Elementary School where the young audience made a conga line.
"That was a first - I was freaking out," she said. "They get really into it. Adults don't do that!"
But when the Potential Lunatics play for kids, she admitted, "There's a degree to which we're like, `They're not paying attention to our lyrics! We have something to say!"'
Emma and Isaac's own youth has not caused problems with booking shows or recording the album, but, they say, it has not gone unnoticed by some audiences.
"People still ask, `What is this, some kiddie band? What are they going to sing?' That would get me really mad, and then I'd get up there and scream," Emma said. "People still do that because we're young, and because I'm a girl.
"It helps, because when I get mad, I go up on stage and play mad," she added.
Their attitude isn't all "stick it to the man," however. Emma says she hopes the Potential Lunatics' performances, and now their CD, are empowering to kids.
"I really am happy they can see that I'm a singer and he plays the drums so well, and that we're really young, and that they can do it," she said.
That's her advice to aspiring musicians: "If you want to do it and you're going to have fun doing it, just do it."
Austin Siegemund-Broka 310-540-5511, Ext. 6390 austin.siegemundbroka@dailybreeze.com.